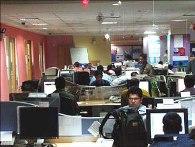 India continued to be the most optimistic nation in terms of hiring plans for the next three months, driven by strong job opportunities across all sectors including finance and realty sectors, global staffing services firm Manpower said.
According to the quarterly 'Employment Outlook Survey', India Inc's hiring outlook improved by four percentage points for the April-June period compared to the previous quarter.
"With Net Employment Outlook of 39 per cent, Indian employers report the most optimistic forecast among all 36 countries and territories participating in the survey," it said.
"Employers remain optimistic on account of strong domestic growth. We are witnessing improved opportunities for job seekers across all industry sectors with employers indicating that hiring in India's Services and Finance, Insurance & Real Estate sectors will accelerate in the months ahead, "Sanjay Pandit, Managing Director, Manpower India said.
India has been reporting the strongest hiring plans globally since the third quarter of 2008. The survey stated that job seekers in the services industry sector --finance, insurance, realty, manufacturing sector and mining and construction, can look forward to the most favourable hiring environment in the April-June time frame.
Moreover, job prospects in the Asia Pacific region remain strong, with the exception of Japan, and hiring outlook continue to improve modestly in most of the American region.
Employer hiring intentions are strongest in India, Brazil and Taiwan, while in the US they are similar to three months ago period, but more optimistic compared to last year at this time, Manpower said.
"Growing confidence could be attributed to robust industrial output, a continuous surge in demand in consumer goods, auto sector and bounce back in IT and ITES sectors," Pandit said about India. Employers in finance, insurance and real estate sector also report a four percentage point improvement in net employment outlook over the last quarter.
The softest hiring pace in India is reported by employers in the transportation & utilities sector (28 per cent). Employers in the manufacturing sector (38 per cent) report substantial improvements in their quarter-over-quarter hiring outlook.
Moreover, companies in all four regions in the country expect year-over-year hiring activity to improve considerably.
Employers in various regions -- East (42 per cent), West (40 per cent) and South (40 per cent) report the country's strongest hiring expectations.
The survey is conducted quarterly to measure employers' intentions to increase or decrease the number of employees in their workforce during the next quarter.
Globally, the Manpower survey shows employers in 27 of 36 countries and territories expect some positive hiring activity in Q2, while those in eight report negative outlook.