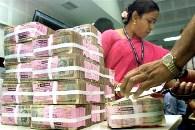 The demand for cost control will force research and development (R&D) centres in India to put a check on salary escalations for the next couple of years, a report by Zinnov Management Consulting, a leading management consulting firm, says.
"As the cost pressures continue to exist, we foresee companies trying to execute more R&D work at the same or even lesser budgets as compared to last year," CEO of the firm Pari Natarajan said while releasing the annual report on 'Compensation and Benefit Study 2010'.
He said that companies would be forced to focus on new growth engines in the form of emerging markets (such as India and China) and newer technologies (such as SaaS/ Cloud), and this will push all R&D centres to deliver higher value and productivity at lower costs.
"We also see that this demand for cost control will indeed force R&D centres in India to put a check on the salary escalations for the next couple of years," he added. The study targeted at the multi-national companies' R&D centres in India, brings to light how compensation and benefit is shaping up post recession and what are the global changes and its impact on the centres in India.
It stated that R&D expenditure has gone down significantly in the last 24 months. The report said the diminishing cost arbitrage due to historic salary increments and overheads caused due to productivity differentials and inexperienced talent pool will be a cause of concern for the R&D fraternity in 2010.
Centres in India would need to react to this by optimising on the salary hikes for the current year and there on.
© Copyright 2021 PTI. All rights reserved. Republication or redistribution of PTI content, including by framing or similar means, is expressly prohibited without the prior written consent.