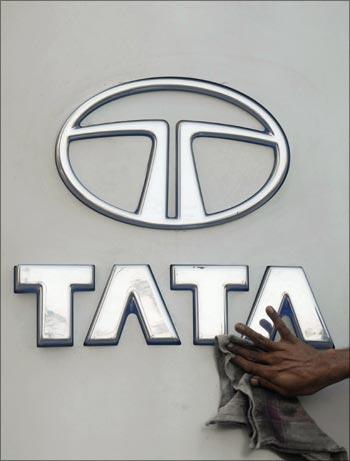 Foreign fund house Citigroup Global Markets Mauritius on Tuesday bought 0.97 per cent stake in Tata Motors for Rs 350.13 crore (Rs 3.50 billion) through open market transaction -- as part of the 5.34 per cent residual stake that Dailmer sold in the country's largest automaker.
The German car and truck maker Dailmer on Tuesday ended its over half-a-decade-long association with the Tatas by selling its 5.34 per cent residual stake in Tata Motors for for Rs 1,924.01 crore (Rs 19.24 billion).
The German auto firm offered a discount of 5-7 per cent over Monday's closing price of Tata Motors shares.
Citigroup Global Markets Mauritius has purchased 4.653 million shares of Tata Motors at Rs 752.41 per share from Dailmer aggregating to Rs 350.13 crore (Rs 3.50 billion), according to the bulk deal available with the Bombay Stock Exchange.
The Tata Motors promoters, Tata Sons also purchased 4 million shares or 0.833 per cent stake from Dailmer at Rs 750 a piece, aggregating to Rs 300 crore (Rs 3 billion), according to the BSE bulk deal data.
As per the December quarter, the shareholding pattern available on the BSE Tata Sons held 27.13 per cent stake in Tata Motors.
Earlier in the day, German auto major said the deal will have a positive effect on its pre-tax earnings at about 265 million euros.
Explaining the reasons for the stake sell in Tata Motors, Daimler said it is in an 'excellent position' to capitalise on the potential of Indian passenger and commercial vehicles market and continues to intensify its own activities there.
Shares of Tata Motors settled at Rs 770.90 on the BSE on Tuesday, down 3.24 per cent from previous close.