India is now between the end of a financial crisis and a bouncing back of the economy, and the search for a new normalcy is still on, according to former Reserve Bank of India governor Y V Reddy.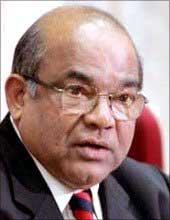 Delivering the second BL Maheshwari Memorial Lecture on 'Global Financial Crisis and Organisational Failures', at the Centre for Organisation Development in Hyderabad on Wednesday, he said the global crisis resulted due to multiple factors - failure of markets and consequent deregulation by central banks, of states in regulating when markets were innovating, of globalisation, of intellectuals, of economics and of economists, and due to moral failures.
India was, relatively, less affected, as the central bank here did not allow the banks to speculate with people's money on the market. "Being sensitive to the poor will ensure that India will not see a similar financial crisis in the future. However, with India's per capita income being among the lowest, the country is heading for a happiness crisis," he said.
The financial crisis started off in a handful of countries and in a knee-jerk reaction, they infused enormous liquidity into the system. Soon, more countries infused liquidity into their respective countries, resulting in an excess. Also, excessive emphasis on price stability was one factor for the financial crisis. "There were no circuit breakers in the financial system. The disruption at one point was allowed to seep into the entire system,"' he said.
There appeared a nexus between the board of directors, auditors and other other stakeholders of big financial institutions, as nobody seemed to identify the rot happening in the finance system. "Citizens became investors and did not mind changing loyalties for the corporates. They did not have any responsibility for their own family members, too," he said. Adding, that financial institutions used self-regulation as a smokescreen and responded selectively.
"What is money? How is it measured? Does it matter? These three questions are still not answered convincingly," he said.
He was also critical at the ratings given to financial institutions, saying these didn't reflect things in entirety.