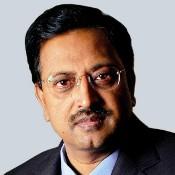 Disgraced Satyam Computers founder B Ramalinga Raju, the prime accused in the multi-crore financial fraud in the IT firm, on Thursday moved the Supreme Court pleading that he be released on bail.
In an appeal filed against the Andhra Pradesh High Court order which had rejected his bail application, Raju claimed he was suffering from serious cardiac and other health problems and was willing to abide by any conditions imposed by the apex court for his release.
The bail plea of Senior Vice President-cum-Global Head of Internal Audit Cell in Mahindra Satyam, V S Prabhakar Gupta, was also rejected by the high court along with that of Raju after CBI opposed their bail plea on the ground the duo could tamper with the evidence.
In his bail application, filed through counsel Uday Sagar, Raju said the entire investigation in the Satyam case has been completed and chargesheet was also filed and hence there was no further need for his judicial custody.
He claimed as the chargesheet contains voluminous documents, he was unable to go through it and to meet his counsel to prepare for his defence due to his ill-health.
CBI had earlier in the high court opposed the duo's bail plea stating it would hamper the ongoing investigation as the agency was awaiting additional reports from the courts in the UK, US and certain European countries on alleged diversion of funds by the accused.
Raju was arrested in January last year after his confession of fudging accounts in what was dubbed as the biggest corporate accounting fraud in the country. Since then, he is under judicial custody.