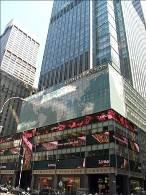 Senior executives and auditing firm Ernst & Young have been criticised, among many others, for the failure of Lehman Brothers, by an official report that delved deep into the collapse of once-famed Wall Street major.
The report also noted that Citigroup and JPMorgan demanded collaterals from Lehman for loans, which added to the liquidity problems at the bankrupt company. Lehman Brothers went bankrupt in September 2008, following which the global financial crisis worsened.
The 2,200-page report has found that senior management resorted to accounting gimmicks, which even saw the temporary removal of assets worth USD 50 billion from its balance sheet.
There are "colorable claims against the senior officers who oversaw and certified misleading financial statements Lehman's CEO Richard S Fuld, Jr, and its CFOs Christopher O'Meara, Erin M Callan and Ian T Lowitt," the report prepared by US-court appointed examiner Anton Valukas.
"There are colorable claims against Lehman's external auditor Ernst & Young for, among other things, its failure to question and challenge improper or inadequate disclosures in those financial statements," it noted.
According to the report, to continue provision of clearing services and intraday credit that Lehman relied upon for day-to-day operations, clearing banks demanded collaterals. "In response, Lehman pledged, or attempted to pledge, Lehman-structured instruments, such as certain collateralised loan obligations, to Citigroup and JPMorgan two of its principal settlement banks," it added.
According to Valukas, while Citigroup rejected the assets proposed by Lehman. Even though, JPMorgan accepted structured instruments, it demanded additional cash collateral.
"JPMorgan's collateral call was one of the contributing factors to the liquidity problems that hastened Lehmans bankruptcy," the report noted.
Valukas, who is the Chairman of legal firm Jenner & Block, noted that a series of business decisions had left Lehman with "heavy concentrations of illiquid assets" including residential and commercial real estate. Lehman's financial plight was exacerbated by executives, whose conduct ranged from serious but non-culpable errors of business judgement to actionable balance sheet manipulation.
In addition, the report has criticised Lehman's investment bank business model, which rewarded excessive risk taking and leverage. To avoid the prospect of going out of business, Lehman pursued a number of strategies and even painted a misleading picture of its financial condition, the report said.
As per the report, Lehman, which incurred a loss of $2.8 billion in the 2008 second quarter, had also said that it had a strong and robust liquidity pool. "Lehman did not disclose, however, that it had been using an accounting device...to manage its balance sheet by temporarily removing approximately $50 billion of assets from the balance sheet at the end of the first and second quarters of 2008," Valukas noted.