Korean steel major Pohang Iron and Steel Company, the world's fourth largest steel maker, will lay the foundation stone on Monday, March 15 for Rs 40 billion (Rs 4,000 crore) steel processing plant in Maharashtra, underlining long-drawn delays over a greenfield steel manufacturing plant in Orissa.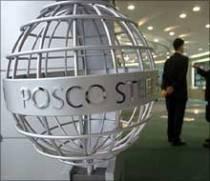 "The state-run Maharashtra Industrial Development Corporation has provided Posco 500 acres in Vile Bhagad in the coastal Raigad district. The project site is near the upcoming Dighi port," Maharashtra industries minister Rajendra Darda told Business Standard. The land has been offered at Rs 250 per sq mt.
Of Rs 4,000-crore, Posco plans to invest Rs 7 billion (Rs 700 crore) in the first phase, Rs 8 billion (Rs 800 crore) in the second phase and the rest in the third phase. The company plans to produce galvanised steel and other grades in the Vile Bhagad unit to cater to both the domestic and export markets. The plant will have a processing capacity of 2.5 million tonne in the first phase.
State chief minister Ashok Chavan, his deputy Chhagan Bhujbal, Darda and the minister of state for industries Sachin Ahir would skip the foundation laying function slated for March 15 as the code of conduct for the election to the state legislative council is in place.