As per Mercer's 'Asia Executive Remuneration Snapshot Survey', more firms are planning to grant pay hikes in 2010, as Asian economies continue to show signs of improvement.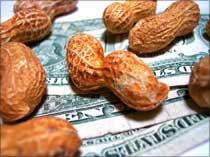 As many as 65 per cent of the 233 companies surveyed across the region plan to provide base salary hikes for executives, compared with only 30 per cent in 2009.
"The highest salary increases of the year are being reported in India, where organisation heads and his/her direct reports can expect a 10 per cent raise," the report stated.
"Second-level reports (executives) are expected to get 12 per cent. This is in part a symptom of fierce competition for executive talent coupled with fast-growing economy," it added.
In the entire Asian region, the median base salary increase for executives is expected to be around 4-5 per cent in 2010, compared with 0-1.6 per cent in 2009. But the figure varies substantially across Asia.
Meanwhile, the number of firms planning to reduce base salaries for executives has declined considerably year-on-year to three per cent in 2010 from 11 per cent last year.
In China, direct and second-level executives can expect to receive a 5 per cent raise, while company heads would receive only 1.5 per cent.
The Mercer report stated that many companies are now factoring individual performance into their short-term incentives plans, in addition to traditional financial measures such as revenue and profitability.
Few changes have been reported across the region in terms of long-term incentive plan design, signalling companies are very much focused on short-term business turnaround.
"While many companies in Asia are considering long-term structural changes to their executive remuneration programmes in order to enhance relationship between pay and performance. We are clearly seeing a focus on differentiation of individual performance for executives right now," Mercer's Rewards Asia business leader Wei Zheng said.
Approximately 30-40 per cent of an executive's total pay package is linked to variable pay (STI plus LTI) regardless of the type of organisation.
Asian companies tend to provide their executives with more short-term incentives in the variable component of their total package, compared with their Western counterparts who tend to favour long-term incentives, the report added.