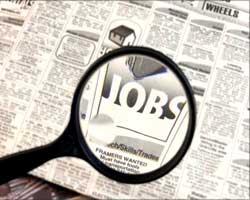 The unemployment rate in the UK dropped to 7.8 per cent in the three months to January 2010, the first quarterly fall in nearly two years.
Indicating that the country's labour market is slowly stabilising, the jobless rate slipped 0.1 per cent to 7.8 per cent while the for the three months ended January, data from the UK Office for National Statistics showed.
"This was the first quarterly fall in the unemployment rate since the three months to May 2008.
"The number of unemployed people fell by 33,000 over the quarter to reach 2.45 million," the agency said.
Meanwhile, the count of people seeking jobless benefits between January and February, dropped the maximum since November 1997, it said.
The number of individuals claiming unemployment benefits declined by 32,300 to 1.59 million.
"This is the largest monthly fall in the claimant count since November 1997," the statement noted.
Battered by the financial turmoil, the UK had witnessed millions of job losses, as many companies resorted to layoffs to cut down costs.
"The number of people unemployed for more than 12 months increased by 61,000 over the quarter (November to January) to reach 687,000," it added. For the quarter under review, the count of employed people stood at 28.86 million.