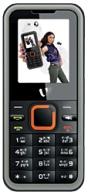 Diversified business group Videocon on Wednesday launched nine mobile handsets and said it plans to sell a million devices per month in the country this year.
Videocon, which started its handset business in October, has been so far selling 2.5-3 lakh units a month. With the nine launches, its offering has risen to a total of 21 handsets from 12 at present.
"This year, we plan to sell one million units every month. With the launches our objective is to be a one-stop shop for the customer, and cater to each and every class and age with a price range of Rs 1,300 to 19,000," Rahul Goel, COO of Videocon mobile phones division told PTI.
India is among the fastest growing cellular phone markets in the world, with an existing user base of about 500 million subscribers. It is adding 12 million users every month in the GSM space and about 3 million in the CDMA space.
At present, global brands like Nokia, Samsung, LG, Sony Ericsson together with Indian players like Micromax have over 90 per cent market share.
"Mobile phone market has been one of the fastest growing market. However, there is a big gap between the international brands and domestic ones. We would like to bridge the gap," he said.
The new range of devices priced between Rs 1,400 and Rs 7,000 include devices with triple SIM CDMA, Qwerty keypad, optical track pad and touch screen, he said. Videocon has already established a pan-Indian presence for its new range of cellphones, and is poised to emerge as the largest Indian operator in the segment, he added.
The company is also aggressively spreading across the country by appointing an extensive network of dealers and distributors, with an emphasis on reach and penetration.