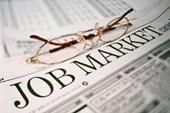 Buoyed by the economic scenario and hiring across various functional areas, job portal Naukri.com's Job Speak index touched an all time high in the last one year, besides rising 17 per cent in February 2010 compared with the corresponding period a year ago.
This time the job portal has introduced its new and expanded job index, which takes into account not only the jobs posted online by its clients but also those made by them with the help of the website's telecalling team.
In the old job index, the index moved up by 14 per cent on a year-on-year basis.
This growth is because of the information technology, ITeS (IT-enabled services), auto and banking sectors, which have started hiring again.
Both new and old job indices show that most industries are on the track to bounce back to the pre-slowdown levels.