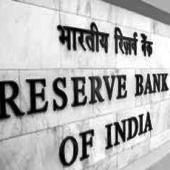 The Reserve Bank of India on Thursday signalled a rate hike to calm rising inflation.
RBI deputy governor KC Chakrabarty said the central bank was exploring all options to tackle inflation, including an action even before its April policy review, if the situation demanded so.
"All options are open… If it (inflation) is inevitable and the price situation warrants so, action can be taken any day. We have to see what factors are fuelling inflation," Chakrabarty told reporters in New Delhi on the sidelines of a conference.
Inflation based on wholesale price index rose to 9.89 per cent in February from 8.56 per cent in January. Food inflation, on the other hand, dipped from 17.81 per cent in the last week of February to 16.3 per cent in the first week of March, but it still remains very high.
He said inflation was being fuelled by supply-side factors and the RBI would act if demand pressures emerged. He said the current price situation was a concern, but it was not beyond expectations because consumer price index was rising last year also.
"If monetary action is necessary, it will be taken. For that, we have to examine reasons of inflation -- how much it is due to the supply-side factors and how much is demand-side factors. The moment it is there (demand side pressures), we will take action," he said, adding the liquidity situation was comfortable.
Prime Minister's Economic Advisor C Rangarajan also termed the current level of inflation as uncomfortable and said it was a matter for worry.
"I think it is a cause for concern. Whatever may be the factors pushing the prices, overall, inflation rate is certainly a matter for worry," he added.
Soon after the third-quarter review of the monetary policy, another RBI deputy governor Subir Governor had tried to comfort the market by indicating that the next round of action would be initiated in April.
However, since then, inflation has crossed RBI's estimate of 8.5 per cent by the end of March. The central bank had increases the cash reserve ratio by 50 basis points to suck out excess liquidity from the system.
Economists and bankers are expecting the next round of action -- a 25-50 basis point increase in policy rates – when the annual policy statement is released on April 20.