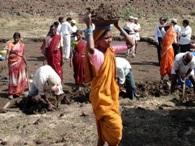 It is true that, at 119 crore (1.19 billion) person-days, the employment created this year by the Mahatma Gandhi National Rural Employment Guarantee Scheme (MNREGS), the government's flagship programme, is tiny, a fraction of one percentage point of the total employment in the country.
But a more meaningful way of looking at its potential impact, however, is to see that around half the country's workforce has registered for a job under it (21.5 crore individuals have registered for MNREGS job cards so far this year, and 9.7 crore (97 million) have got them, out of the total workforce of around 45 crore).
In other words, in just three years, the programme has come a long way. Indeed, while there are no all-India figures, there are enough reports of a shortage of labour for agriculture in several key states in the harvesting season.
This, in turn, has led to wage rates in the country going up. In other words, what various minimum-wage statutes and the large bureaucracy that mans them haven't been able to achieve, the MNREGS has achieved in a relatively short period of time.
 The success of the scheme, however, is also its main weakness. What was started as a social security scheme to provide employment in times of need has now morphed into a full-fledged employment programme that is in danger of supplanting the labour market it was meant to supplement.
To begin with, the government changed the definition of those entitled to a job under the scheme from just one member per household to any adult member - theoretically, this at least doubled the number of potential beneficiaries.
The daily wage rates offered, ranging from Rs 84 to Rs 99 this year, are also far in excess of the wages for casual employees across the country - while a higher MNREGS wage is a good thing from the point of view of what it does for wage levels, it distorts the market.
So, in a situation where employers do not pay the minimum wages in rural areas (typically, wage levels rise during harvest and sowing seasons), a typical family may prefer the option of registering for the government scheme at a higher wage.
What this will do to employment is anyone's guess and depends on whether workers choose to use the government jobs, which are available for only 100 days a year, to supplement or supplant their current work patterns - all of this underscores the need for India to get real-time employment data. This can only get worse with the passage of time.
For one, there is the demand to increase wage rates further - Finance Minister Pranab Mukherjee is on record, in his Budget speech last year, to provide a real wage (indexed to inflation, that is) of Rs 100 per day as an "entitlement".
In other words, as time goes by, MNREGS is taking on the form of an entitlement and not as a payment for a minimum amount of work done. If the government is keen to ensure it does not hamper genuine job creation, it needs to rethink the MNREGS and the wage levels under it.
Also, if rural workers are going to get a direct cash transfer, or close to it, the government may wish to rethink other programmes, such as the Right to Food one, that are also aimed at ensuring a higher standard of living for people in these areas.