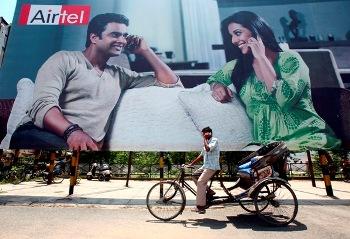 A day after putting in application for 3G licence, Bharti Airtel on Friday applied for broadband wireless access services spectrum for which the government has kept the reserve price at Rs 1,750 crore (Rs 17.5 billion).
The last date for applying for both 3G and BWA spectrum is today. Auction for BWA spectrum will begin on April 11.
The government has fixed the reserve price of Rs 1,750 crore for pan-India spectrum. Two blocks of 2.3 MHz spectrum in each circle will be put up for the auction.
So far Vodafone, Tata communications and Mumbai-based Tikona services have applied for BWA spectrum.
Besides, these four service providers US-based chipset maker Qualcomm has also bid for pan-India BWA spectrum. Broadband Wireless Access spectrum is necessary for rolling out Worldwide Interoperability for Microwave Access services that helps hand-held devices and laptops to access the Internet.
However, Qualcomm's plans to use the BWA spectrum for offering TD-LTE, which is the advanced version of 3G technology, has not gone down well with Wimax players. Bharti had already applied for for pan-India 3G licence.
The government will be sell spectrum to three players across the nation with the exception of a few states where four slots will be on offer.