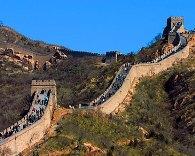 China is considering a gradual rollback of its last year's $586 billion stimulus package, as the economy sets its sights at over eight per cent growth this year.
China is seriously considering withdrawing its proactive fiscal policy but so far no timetable has been established, Wang Jun, Vice-Minister of Finance said in his speech at the 2010 China Development Forum in Beijing on Sunday.
"China's proactive fiscal policy was formulated according to the country's own situation, and the withdrawal will take place step by step in accordance with the country's conditions to ensure a stable transition," Wang said.
The Chinese government last year announced a $586-billion stimulus package after the exports, the main stay of its growth fell sharply due to the global economic recession. The stimulus, in the form of subsidies to the vast rural masses to buy consumer products, helped the industry stay afloat by spurring domestic demand.
The government's plan to withdraw stimulus comes after the Chinese Prime Minister, Wen Jiabao, early this month said the economy was projected to grow at over eight per cent.
The World Bank in its assessment reports, however, said the Chinese economy may grow over 9.5 per cent. However, there are lingering doubts about the sustainability of China's domestic recovery.
Premier Wen himself in his media interaction this month had said that despite economic recovery there was no fundamental improvement in a number of Chinese business concerns and they continue to be dependent on stimulus measures.
"It is true that the Chinese economy has stabilised and is turning for the better. But I should also point out that there has not been a fundamental improvement in the operations of many Chinese businesses and a lot of Chinese businesses are still reliant on the stimulus measures," Wen said.
In his speech on Sunday, Wang said the Chinese central government will further increase transfer payments to the local government to achieve balanced development among the country's different regions.
The proportion of the central government's expenditure in the national budget has been on the decline in the past 10 years, while transfer payments to the local government have been on the rise, he said.
Transfer payments, part of the fiscal budget and redistribution of income, so far this year amounted to 3.06 trillion yuan, a year-on-year increase of seven per cent, compared to the five per cent decrease of central government expenditure.
At present, the revenue ratio between the central and local governments is 53 yuan to 47 yuan (based on the benchmark of 100 yuan), while the expenditure ratio between the two is 23 yuan to 77 yuan, he said.