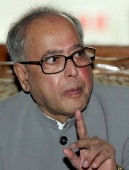 The government expects the economy to expand by 7.2 this fiscal and increase by 8.5 per cent in the next, Union finance minister Pranab Mukherjee said on Monday.
"We are sticking to the advance estimate of 7.2 per cent for 2009-10...," he told reporters on the sidelines of a function in Bangalore.
For 2010-11, the country hopes to achieve a gross domestic product growth of 8.5 per cent (plus or minus of 0.25 per cent), he said.
Image: Pranab Mukherjee