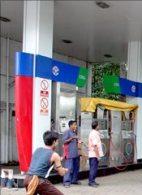 Delhiites will have to shell out more from their pockets for virtually everything from cooking gas to diesel with Delhi government on Monday withdrawing subsidy on LPG and increasing VAT on many items to "generate" additional revenue.
Presenting the Budget amid vociferous protests by opposition BJP, Finance Minister A K Walia announced the withdrawal of the Rs 40 subsidy on LPG cylinders for domestic consumers besides an increase in VAT for diesel and CNG.
He also proposed increase in VAT on various items like desi ghee, house-hold plastic items, kerosene stoves, wood, inverters, tea, coffee locks, lanterns, fertilisers, and all utensils and cutlery items including pressure cooker.
With an increase on the VAT from 12.5 per cent to 20 per cent, diesel will now cost Rs 35.29 per litre in the capital. At present, it costs Rs 32.92 per litre.
A five per cent tax has been imposed on the Compressed Natural Gas (CNG), the fuel used for public transport like buses and auto-rickshaws. At present, there is no VAT on CNG.
Noting that there has been an increase in expenditure in last two years on Commonwealth Games related projects and schemes, Walia said, "our revenue collection through taxes has not been adequate due to recession.
Therefore, it has become essential to look for measures to generate additional revenue to sustain development."
Presenting a Rs 26,000 crore (Rs 260 billion) Budget, Walia said the highest allocation went to transport sector which has been given Rs 4,224 crore (Rs 42.24 billion) as against last Budget's allocation of Rs 3,069 crore (Rs 30.69 billion).