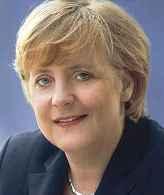 German chancellor Angela Merkel's centre-right coalition has agreed on a plan to reform the nation's banking system and to impose a levy on the financial institutions to make them accountable for future financial crisis.
Details of the plan, which was agreed by Merkel's Christian Democratic Union and her coalition partners, the Christian Social Union and the liberal Free Democratic Party over the past weekend, will be made public after the cabinet endorses it next week.
Though details of the plan is not known, it appears to be in line with the "financial crisis responsibility fees" proposed by US president Barack Obama for the Wall Street banks in January.
Finance minister Wolfgang Schaeuble, who attended the coalition meeting, said the plan is intended to prevent a repeat of the financial crisis in 2008 by discouraging banks from taking risks and by making them pay for themselves if a bailout is required rather than depending on state funds.
The proposed levy will not be a burden for the financial institutions, he added. At the core of the reform plan is an emergency fund into which all banks will pay their taxes and they will be able to tap into the fund if they need financial support in future.
How much and how long each banks will have to pay is still open, but it will vary depending on their balance sheet and the extent of risky businesses they undertake. If the bank levy plan is oriented to US "financial crisis responsibility fee", then it could bring up to 9 billion euros into the emergency fund annually, according to press reports.
It is estimated that the levy could cost Germanys largest bank, the Deutsche Bank around 2.2 billion euros a year while the share of the Commerzbank will be around 1.2 billion euros.
The proposed bank levy will protect taxpayers from the costs of bank bail outs in the future, ruling front's parliamentary leader Volker Kauder said. The coalition partners agreed that "banks cannot in future gamble at taxpayers' expense," he said told a television channel.
The German government had spent around 30 billion euros as direct help to rescue banks and to shore up the financial system since the outbreak of the financial crisis.
The main recipients of the state aid were the Hypo Real Estate and the Commerzbank. Berlin has all along been avoiding any unilateral steps to reform the country's financial institutions arguing that it preferred an internationally coordinated action by the worlds leading economies.
Opposition parties criticised the reform plan as "insufficient" and said they are a "propaganda ploy" ahead of a crucial state election in North Rhine and Westphalia.