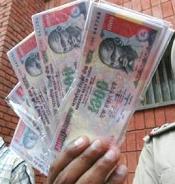 The National Sample Survey Organisation has found wide disparities in the monthly consumption pattern of rural and urban households during 2007-08, with the former spending just half of what their urban counterparts did.
According to the National Sample Survey Organisation (NSSO), the average monthly per capita consumer expenditure (MPCE) in 2007-08 was Rs 772 in rural markets while this was high at Rs 1,472 in urban markets.
The survey estimates that in 2007-08, around one-half of the rural population belonged to households with an MPCE less than Rs 649 at 2007-08 prices, against Rs 580 in the corresponding year.
The survey said that of every rupee of the average rural Indian's household consumption during 2007-08, the value of food consumed accounted for about 52 paise, cereals and cereal substitutes made up 16 paise, while milk and its products accounted for 8 paise.
An average urban Indian's household consumption during 2007-08 spend about 40 paise on food, it said, adding, of this, cereals and cereal substitutes made up 9 paise, while milk and milk products accounted for 7 paise.
Interestingly, tobacco was consumed in as many as 61 per cent households in rural India compared to 36 per cent households in urban India, the survey pointed out. Further, expenditure on rent was reported by only 7 per cent of rural households and 38 per cent of urban households.
About 19 per cent of rural population lived in kutcha structures, while 50 per cent in pucca structures and the remaining in semi-pucca dwellings.
The survey covered the whole of the India, except Leh (Ladakh) and Kargil districts of Jammu & Kashmir, interior villages of Nagaland, and villages in Andaman and Nicobar Islands.
The survey was spread over a randomly drawn sample of 50,297 households spread over 7,953 villages and 4,682 urban blocks.