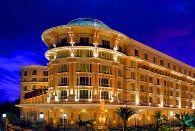 One of India's leading chain of hotels, ITC on Tuesday said it plans to open 25 hotels pan-India in next twelve to eighteen months under its flagship brand Fortune, a top company official said.
"We have agreements for another 25 hotels across India which are under various stages of development. These hotels will be opened in next 12 to 18 months," Pawan Verma, senior executive vice president, ITC Ltd-hotels division said.
Verma was in Ahmedabad to inaugurate ITC's 34th hotel at Gandhinagar-Fortune Inn Haveli. "As far as Fortune brand is concerned, this is our 34th hotel in the country," Verma said.
We are looking to open new hotels in locations like Vadodara, Gandhidham, Rajkot and Surat in Gujarat but nothing has been finalised yet, he said.
New hotels that are scheduled to be opened in next 3 to 4 months include Fortune Select Excalibur in Gurgaon and Fortune Select Loudon, in Kolkata, a company official said. The brand Fortune which has four sub-brands like Fortune Select, Fortune Park, Fortune Inn and Fortune Resort could also witness some more sub-branding.
The ITC group has chain of 115 hotels across India under four flagship brands like ITC-Luxury, Welcome Group, Fortune and Welcome Heritage, he added.