Software maker Intel India and telecom services provider BSNL on Tuesday joined hands for making personal computers and broadband accessible and available to the masses.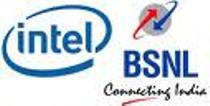 The Intel and BSNL 'Meri Manzil Mera Pehela Kadam' initiative would cover rural areas across the country over the next few months, a Intel statement here said.
"This programme will cover the entire spectrum of connectivity solutions from BSNL and range of devices based on Intel processors including the Intel Atom Processor based Netbooks and Nettops," it said.
Intel South Asia Managing Director Sales and Marketing Group R Sivakumar said, "Intel believes that the WiMAX broadband technology can help bridge the digital divide in India and is certain that with this initiative we will make it easy for people to own their first PC and explore the internet thereby bringing about a positive change in their lives."
BSNL Director (Consumer Mobility) R K Aggarwal said, "We are working closely with Intel to accelerate WiMAX broadband connectivity across India with the aim of bridging digital divide and extend the benefits of technology to millions of Indians."