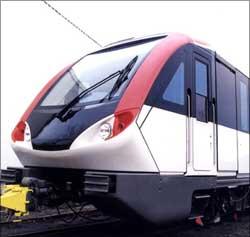 Mumbaikars would get a glimpse of the city's first Metro train, due to arrive from China in mid-April.
The first of the 16 trains has already been moved to Shanghai by the manufacturer of the four-coach trains, CSR Nanjing, for shipping to India, said sources. The roll-out ceremony, held at Nanjing last week, was attended by officials from the Mumbai Metro.
"It will undergo extensive tests and trials. Mumbai Metro hopes to start commercial run by the end of this year. The first phase would cost $145 million (Rs 660.76 crore) and all coaches are expected to reach by October," said Mumbai Metro One Pvt Ltd Director, K P Maheshwari.
The 11.4-km Versova-Andheri-Ghatkopar corridor is set to be operational before the year end. Each coach will have a sitting and standing capacity of 50 and 325 passengers, respectively.
Mumbai Metro-I expects 600,000 passengers in the four-coach trains everyday in the first year and about a million passengers for the six-coach trains to be introduced later, said sources.
The coaches will come with black boxes that would record events of the day and will have a driver-passenger communication system, with video facility. A passenger judging apparatus using a load sensor would regulate the brakes and air-conditioning systems.
China to ship 18 trains for Mumbai Metro
China is set to dispatch 18 high-tech metro trains to Mumbai's new subway network under a $110 million contract and the rails would be ready for operation after their trial run in India's financial hub.
The subway trains rolled off the production line on March 20 and would take a month to ship from Shanghai before their trial is launched in Mumbai in May, said Qian Houkuan, Director of Information and Technology at Nanjing Puzhen Rolling Stock Works which manufactured the rails.
The trains are China's first-ever export of A-type subway rails, which are wider than three metres and have greater passenger capacity than other models, the official Xinhua news agency quoted him as saying.
The trains, with automatic driving systems and maximum speed of 80 km per hour, could operate in temperatures up to 55 degrees Celsius and 100 per cent humidity, Qin said.
Each of their 3.2-metre compartments could carry 390 people, 72 more than the 3-metre A-type trains used in China, he said. The subway trains were sold to Mumbai at the cost of $110 million.