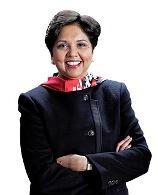 Food and beverages maker PepsiCo and software manufacturer Adobe Systems have made it to the list of world's most ethical companies for this year which are led by CEOs of Indian origin.
PepsiCo and Adobe Systems are headed by Indian origin chief executives Indra Nooyi and Shantanu Narayen, respectively. Both the companies have cornered a place in the list of 100 most ethical companies for 2010, as per the report by a research-based Ethisphere Institute.
However, no Indian company has found a place in the list, which is dominated by Amercian companies. Debt-ridden Hartford Financial Services have also made it to the list, which was earlier headed by India-origin chief Ramani Ayer.
He left Hartford Financial Services in June last year after serving for 12 years. According to the report, the world's most ethical company designation is awarded to those firms that have leading ethics and compliance programmes, compared to their industry peers.
Interestingly, the companies that have secured a berth on the list are from wide range of industries, right from banking to consumer goods to auto, retail and media.
The list also includes search engine giant Google, global lender Standard Chartered Bank, hardware maker Hewlett-Packard, consumer products manufacturer L'Oreal, diversified industries General Electric, telecom company Vodafone and media and entertainment firm Time Warner.
Meanwhile, global consulting and outsourcing firm Accenture, which has ended its sponsorship of Tiger Woods also found a place on the list.
"Of these companies (100), 26 are new to the list in 2010 and 24 companies dropped off from the 2009 list. These 'drop offs' generally occurred because of litigation and ethics violations, as well as increased competition from within their industry," Ethisphere Institute said.
Some of the companies who have dropped from this year list includes car maker Toyota, global lender HSBC, hardware maker Dell, software major Oracle Corp and fast-food chain McDonald's.
World's 100 ethical companies
Aerospace

Apparel

Auctions

Automotive

Banking

Harris Corporation
Rockwell Collins Inc
The Aerospace Corporation

Comme Il Faut
Nike
Patagonia

Barrett Jackson Auction Company

Cummins
Ford Motor Company
Johnson Controls

Rabobank
Standard Chartered Bank
Westpac Banking Corporation

Business Services

Chemicals

Computer Hardware

Computer Software

Construction and engineering

Accenture
Noblis
Pitney Bowes
Dun & Bradstreet
Paychex

Ashland
Dow Corning Corporation
Ecolab
Flint Hills Resources

Hewlett-Packard Company

Adobe Systems
Salesforce.com
Symantec
Teradata

CH2M Hill
CRH
Fluor
Granite Construction
Parsons

Consumer Electronics

Consumer Productss

Diversified Industries

Electronics and Semiconductors

Energy and Utilities

Ricoh
Xerox

Henkel
Kao
L'oreal
Mattel

General Electric Co

Freescale Semiconductor
Texas Instruments


Duke Energy
FPL Group
National Grid
Sempra Energy
Wisconsin Energy Corporation

Environmental Services

Financial Services


Food and Beverage

Food Service


Food Stores

Waste Management

American Express
The Hartford
The Principal Financial Group

Campbell Soup Company
General Mills
PepsiCo
Solae

ARAMARK
Sodexo

Trader Joe's
Wegmans
Whole Foods Market

Forestry, Paper and Packaging

Healthcare

Hotels, Travel & Hospitality

Industrial Manufacturing

Insurance

International Paper
Stora Enso Oyj
Svenska Cellulosa
Weyerhaeuser

Cleveland Clinic
Hospital Corporation of America
J M Smith Corporation
Johns Hopkins
Premier

Rezidor Hotel Group
Wyndham Worldwide

Caterpillar
Deere & Company
Eaton
Milliken and Company
Rockwell Automation
Timken

Aflac
Swiss Re
Wisconsin Physicians Service

Internet

Media, Publishing and Entertainment

Medical Devices

Pharmaceuticals

Real Estate

Google
Zappos

Thomson Reuters
Time Warner

Becton, Dickinson and Company
Royal Philips

AstraZeneca
Novo Nordisk

Jones Lang LaSalle

Restaurants and Cafes

Best Buy

Telecom Hardware

Telecom Services

Transportation and Logistics

Starbucks Coffee Company
Specialty Retail

Gap
IKEA
Target
Ten Thousand Villages

Avaya
Cisco Systems

Cummins
Ford Motor Company
Johnson Controls

Nippon Yusen Kabushi Kaisha
UPS