Kalpana Kochhar, country head-India of the International Monetary Fund, says it is 'very difficult not to be bullish on India' thanks to country's demographic advantage, its durable institutions and its dynamic private sector.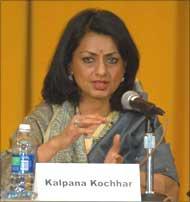 Ms Kochhar elaborated why these factors generate confidence while addressing a panel at the 14th Wharton India Economic Forum in Philadelphia over the week end.
'We are going to be the youngest population in the world in terms of workforce till the year 2050. We have the lowest old age dependency ratio and we will be providing essentially the labour force for the world,' she said.
'Any other country that has gone through this kind of demographic transition in the past may be Korea or Japan. They witnessed big growth during that period and this is what is known as demographic dividend.
This, she said, is not made up of some estimates because this is actually happening. "The job of policy makers and private sectors is to capitalise on this demographic dividend."
Besides the existence of a strong private sector, the other reason for her optimism is the existence of institutions since independence and a functioning democracy despite people talking about corruption and nepotism.
The creation of public institutions is a phenomenal achievement of the government although there is scope to strengthen them.
Ms Kochhar also mentioned about the downsides, especially the infrastructure which is critical for inclusive growth.
People talk about growing the pie but I believe that while you have to grow the pie you have to make sure that it is distributed evenly. Unfortunately, the market does not do it for you, Inclusive growth depends critically on the availability of the infrastructure," she said.
Another area of concern was the fiscal deficit which Ms Kochhar estimated to be almost 10 per cent of the gross domestic product. 'While we should be doing education and infrastructure with our revenues, we are spending money on serving our debt which is the most unproductive way of using our money. This is not something that we can afford for a long time,' she added.
Replying to Vice-Dean and Director of Wharton Graduate division Anjani Jain's question whether the Indian economy can break the boundary over the next three to five years, Ms Kochhar said one of the areas that she wishes to see Indian leaders is in the arena of global businesses.
'I want to see India punching above its weight in the global scene and not just in private sector but in the public and international service sectors where I come from,' Ms Kochhar said.
'India should and could play a much bigger role in global governance and there are structures that can give India smaller weight or bigger weight, but as I said the weight that you have in an organisation does not restrict you to punch above your weight.'