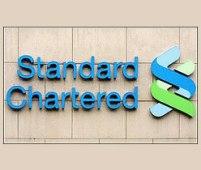 For the first ever global listing in India, Standard Chartered on Tuesday sought regulatory approval for raising over 500 million dollars through Indian depository receipts.
The UK-based Standard Chartered Plc moved the market regulator Securities and Exchange Board of India for approval to float 220 million IDRs.
"We have fixed a lower limit for raising 550 million dollars but have kept open the upper limit," a StanChart spokesperson told PTI.
StanChart Plc plans to list by June.
"The principal rationale for listing is brand building and business development in India, its second largest market," Stanchart said.
In 2009, Stanchart for the first time recorded profits of $1 billion from its India operations, the second country after Hong Kong to generate such huge revenue for the bank in Asia.
"India is the second largest market for the Group and accounts for 20.5 per cent of the group's profits," Stanchart said.
Stanchart has over 94 branches in 37 cities in the country.
Its combined customer base for retail customers stands at around 20 lakh (2 million), among others. Investment bankers, including Goldman Sachs, UBS, JM, SBI Capital and DSP Merril Lynch advised Stanchart on the said issue.
In November last year, Stanchart Global CEO Peter Sands said that the proposed IDR issue would enhance the lender's commitment to the local market.
The bank has operations in an array of verticals, including consumer and wholesale banking, private banking and SME banking.
"India is wholesale banking's largest market globally," it said.
The banks' India income grew at a compounded annual growth rate for five years at 30 per cent, while the profits grew at a CAGR of 41 per cent.
Around 90 per cent of StanChart Plc profit comes from Asia, Africa and West Asia. Stanchart is the first global company to sell shares to Indian investors through IDR, in which both institutional and retail investors as well as foreign institutional investors can subscribe.
IDRs work like global depository receipts or American depository receipts foreign-listed securities against underlying equity shares of Indian companies -- through which Indian companies raise resources overseas.
Sebi guidelines for IDR issue permit only those companies listed on their domestic markets for at least three years and have been profitable for three of the preceding five years for an IDR issues.