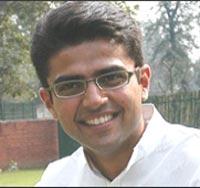 Sachin Pilot, Minister of State for Telecommunications and Information Technology, has predicted that telephone calls and related charges in India could soon be free.
Pilot, who made a splash in Washington DC with articulate presentations at appearances at the US-India Business Council and the Center for Strategic and International Studies -- a leading DC think tank, said this recently.
The young minister added that, in such a scenario, telecom companies would have to think of novel ways to make money, with services such as data transfer, to survive and stay competitive.
He said that with the advent of mobile technology, it has "made India leapfrog into a country with a 51 per cent teledensity and made call rates come down to the lowest in the world -- they are between one or two cents a minute."
He said that "the call rates are so cheap that a lot of telecom companies keep complaining how they are bleeding and how they are in the red. I think the day is not far away when call charges will be free and people will have to make money on data transfer."
Pilot acknowledged that "it's just an assumption, but that's the way it's headed. But it's certainly the next phase of demands that the Indian telecom consumers are making and most certainly the way the telecom operators are looking at in the future."
In 1995, he pointed out that, teledensity -- which is the number of phone lines per 100 people -- was about 1.5 per cent, compared to the 51 per cent today, and the galloping takeoff in the wake of the advent of mobile technology had really been in the late 1990s and the early 2000s.
"The revolution in the telecom sector is very closely tied in with the technological revolution we've had in the IT space," he said, and added: "Just to give you a data point, we now have in India about 555 million mobile users. We add about 15 million to 18 million a month. In January, we clocked in about 20 million mobile subscribers in that just one month alone."
However, Pilot noted that "while this is happening, it's also a fact that only 40 per cent of those mobile phone users have bank accounts. That means a large portion of these people who are using those mobile phones don't have access to credit."
"So we've thought about mobile banking and using the hand-held device as a tool for financial inclusion," he said, and exhorted American businesses to enter this space.
"Here again, there's tremendous scope for American companies and investments coming to figure out a way how we can harness this huge business potential that will have two very positive end points. One, financial inclusion for people of India and a good way for Indian and American companies to collaborate and invest and find out technologies -- how we can get this sorted out as soon as possible."
Pilot said that besides proliferating mobile usage in India, there was also "a convergence of information technology, mobile technologies, all of it coming on to one platform."
He said that India's export of IT and IT-enabled services last year "was close to $60 billion and about 80 per cent of this export was to Western Europe and to the United States."
According to Pilot, "Despite the economic slowdown globally, the IT industry in India was able to maintain a robust growth rate -- we grew at about 30 per cent two years ago and last year was 15 per cent. This year, it's about 5.5 per cent, but more importantly, the Indian IT sector, the Indian IT industry, had continued to hire people, to create job opportunities, to carry on the growth momentum, and the IT sector is now contributing much more than ever before to our GDP."
"So as we focus outward and we do a lot of exports, Indian companies have now actually become global benchmark companies," he said.