Financial Times, Britain's leading business daily, plans to launch an India edition, its chief executive officer John Ridding said on Monday.
FT, which has many editions worldwide and a circulation of over 400,000, is engaged in a trademark tussle with India's leading media group Bennett and Coleman.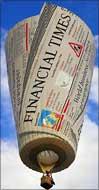 Stating that FT was trying to get approval for quite sometime now, Ridding said, "It (wait) has been frustrating. We are hopeful of getting it (approval) soon."
In 2008, FT inked a content partnership with Network18 Media and Investments after ending its 15-year-old content partnership with Indian financial daily Business Standard.
After that FT planned to launch the printing of the paper from Mumbai. However, Pearson Plc, the owner of the Financial Times newspaper, faced problem in launching the paper under the name of Financial Times in India due to some trade mark issues as India's Economic Times was already publishing a weekly supplement under the masthead of Financial Times.
Ridding said that FT was "locked in a legal tussle" with Bennett Coleman and Co whose CEO Ravi Dhariwal did not offer any comment on the subject.
Ridding said FT was planning to go on its own as compared to earlier partnership model with Business Standard. "This time we are planning to go solo. Indian business class is quite proficient in English. So we want to stick to English."
For the March quarter Pearson Plc, the owner the Financial Times, reported a 7 per cent growth in revenue to pound 1.08 billion, helped by growing ad revenue at its newspaper operation.
Addressing a session on "The Internet and the Crisis Confronting the News Media" organised by the Aspen Institute India and the Financial Times in New Delhi Ridding said, there is radical change occurring in news media and a serious crisis of its existence is ensuing.
"The rise of digital channels and the Internet has prompted profound crisis for news media".
Most major economies have seen a rapid decline in readership of print media so much so that many known publications have either folded shop or been sold in many countries. According to Ridding, "The quality of the media depends on the medium and the quality of the medium depends on business model".
The rule number one for the Internet is that it does not hold to any national boundary which allows it to be one of the greatest mediums of information sharing. According to him, businesses should change their models and tweak their strategies in order to achieve a better market share. What publication corporations could not provide, the Internet could.
Thus in his opinion, the Internet is a tool that corporations need to harness rather than shun. Internet readers and subscriptions is a far richer engagement than print media can ever hope to achieve. "Necessity is the mother of all innovation here, as elsewhere and advertising alone will not be able to sustain the news media".
In conclusion, Ridding talked about the great potential India holds for print and news media and the effort of the Financial Times on trying to breach into the Indian market as well as the other emerging markets of the world.