As many as three India-origin people including PepsiCo chief Indra Nooyi have been named among the highest paid CEOs of the 500 biggest American companies, according to a list compiled by the Forbes.
With a total compensation of $141.36 million, H Lawrence Culp Jr, the chief of the diversified manufacturing and technology firm Danaher, is at the top of the list.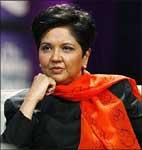 The list of the 500 CEOs of the biggest American companies features as many as three India-origin people -- Nooyi (93rd position), diagnostics entity Quest Diagnostics' Surya N Mohapatra (96) and software major Adobe Systems' Shantanu Narayen at 425th slot.
While Nooyi had a compensation of $10.66 million, that of Mohapatra was $10.29 million and Narayen had a pay packet of $1.88 million.
"For the third consecutive year, the chief executives of the 500 biggest companies in the US (as measured by a composite ranking of sales, profits, assets and market value) took a cut in total compensation. "The latest collective pay cut, 30 per cent, was the biggest of the past three years (11 per cent and 15 per cent declines in the previous two years)," the famed magazine said.
According to the magazine, in total, these 500 CEOs earned $4 billion in 2009, which averages out to $8 million apiece. "Although down from last year (49 per cent), the value realised from exercised stock options again account for the main component of pay, 30 per cent this year," the Forbes noted.
At the second spot is Oracle's Lawrence J Ellison with a pay packet of $130.23 million, followed at the third place by Chesapeake Energy's Aubrey K McClendon with $114.29 million in annual package.
Occidental Petroleum's Ray R Irani has cornered the fourth position with a compensation of $103.07 million and Yum Brands's David C Novak is placed at the fifth with $76.49 million.
Others in the list include Hewlett-Packard's Mark V Hurd (26th rank with $24.74 million), News Corp's Rupert Murdoch (53rd with $15.55 million), General Electric's Jeffrey R Immelt (237rd with $5.08 million) and Goldman Sachs' Lloyd C Blankfein (472rd slot with $1.13 million in annual pay package).
"Total compensation for each CEO includes the following: salary and bonuses; other compensation, such as vested restricted stock grants...and stock gains, the value realized by exercising stock options," the magazine said.
The compensation data is from the latest available proxy statements filed through April 9, 2010 while total returns and value of stock owned (including all classes) is based on stock price as on April 8.
© Copyright 2022 PTI. All rights reserved. Republication or redistribution of PTI content, including by framing or similar means, is expressly prohibited without the prior written consent.