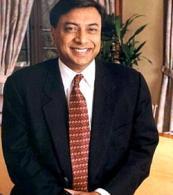 NRI billionaire LN Mittal is among the front runners for a committee being set up to improve ethical behaviour of crisis-ridden Goldman Sachs, says a media report.
Goldman Chairman and Chief Executive Lloyd Blankfein said a new business standards committee is being set up to improve ethical behaviour, according to The Telegraph.
"It (committee) will be chaired by one of Goldman's non-executive directors with Lee Scott, former chairman of Wal-Mart and Lakshmi Mittal, who runs the giant ArcelorMittal steel group, among the front runners to fill the post," the report added.
Goldman has been charged by the US regulator Securities and Exchange Commission (SEC) with misleading investors over Abacus, a sub-prime mortgage financial vehicle.
It alleges that Goldman kept investors in the dark about the $1 billion mortgage deal that saw the Royal Bank of Scotland emerge as one of the biggest casualties with a loss of $840 million. Sub-prime mortgages, where chances of defaults are high, were one of primary causes for the global financial crisis.
According to the publication, Blankfein admitted there had been shortcomings at the US investment bank which has an annual revenue of more than $50 billion.