UTI Asset Management Company plans to aggressively use social media and wireless technology for mobile phones to reach out to investors, a senior company official said.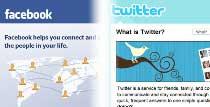 "Sixty-three per cent of investment is done through community-based recommendations in India. Community can be friends, colleagues, relatives or social media like Twitter and Facebook. We are doing a lot of activities on Facebook and Twitter to educate investors," UTI Asset Management Company Chief Marketing Officer Jaideep Bhattacharya said.
"The idea is that wherever there is a discussion happening, you have to come and communicate or guide. We are building social media in a very big way, as people talk a lot through social media," he said.
Known for its innovative marketing initiatives, the company has come out with initiatives such as tying up with Mumbai's dabbawallas to distribute its NFO-Wealth Builder Fund-Series II, advertisements in Mumbai's local trains and tying-up with Meru cabs to communicate with investors in the past.
"This year we are focusing on using wireless technology on mobile platforms, which would help us in penetration of new markets, reducing cost of transactions and knowledge dissemination," Bhattacharya said.