The special local court in Hyderabad on Friday posted the Central Bureau of Investigation plea for questioning the Satyam scam prime accused B Ramalinga Raju through video-conferencing, to June 1.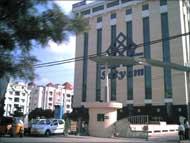 As the judge of the special CBI court trying the nearly Rs 10,000-crore (Rs 100 billion) Satyam accounting scam cases is on vacation, the case came up before a local court which posted the matter to June 1.
The CBI recently moved the court for permission to establish a video link with the Nizam's Institute of Medical Sciences, where Raju has been admitted since last July, to expedite the case as he has not been attending court proceedings since last September on medical advice.
The court, meanwhile, extended the judicial remand of all the ten accused, including Raju, till June 1.
Except Raju, all the accused were produced before the special court trying the Satyam scam cases today. Meanwhile, the petition of former CFO of Satyam Vadlamani Srinivas, who sought permission to undergo eye tests at a private hospital, was also adjourned to June 1.