Reliance Industries' eastern offshore KG-D6 gas fields have helped the nation save Rs 4,000 crore (Rs 40 billion) in fertiliser subsidy and raise gas-based power generation by 30 per cent, chairman Mukesh Ambani has said.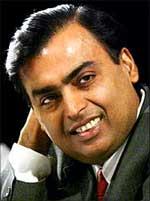 "Within a year of start-up, we ramped up production at KG-D6 and supplied over 512 billion cubic feet of natural gas to the nation," he said addressing the shareholders in the company's annual report for 2009-10.
RIL, which began gas production from KG-D6 fields in April last year, is currently producing 63-64 million standard cubic meters per day or 40 per cent of the nation's output.
"This was achieved through uninterrupted operations spanning 365 days with a production level that now exceeds 60 mmscmd of antural gas and over 35,000 barrels of crude oil per day," he said. "This achievement is without parallel in deepwater gas production systems globally."
The increased availability of natural gas has resulted in higher volume and cheaper cost of indigenously produced fertiliser, thereby "saving the country of Rs 4,000 crore per annum in subsidies," he said.
Ambani, 53, said it had also resulted in improvement of 30 per cent in gas-based power generation and replacement of more expensive liquid fuel for refining, steel and petrochemical industries.
The company's new only-for-exports refinery at Jamnagar in Gujarat operated at 120 per cent of its capacity in the fiscal. "Our petrochemical business delivered record growth and margins reflecting the resilience of the Indian economy. The new Polypropylene facility of 0.9 million tons at Jamnagar also achieved full utilisation level within a sport span of time," he said.
RIL reported a record turnover of over Rs 200,000 crore ($44.6 billion) in 2009-10 and a net profit of Rs 16,236 crore ($3.6 billion).
"Our goal is to make RIL one of the most innovative companies in the world and to achieve breakthrough growth in revenues and profits by creating and implementing sustainable solutions," Ambani said.
He mentioned about acquisition of 40 per cent interest in Atlas Energy Inc's Marcellus shale gas acreage in the US. "RIL has become a partner in approx 300,000 net acres of undeveloped leasehold in the core area of the Marcellus shale region."
"We will focus on improving our portfolio, increasing efficiency, product innovation and expanding our businesses in order to get closer to key markets," he said.
"With this strategy, we can offer our customers best products and solutions and secure our position as a leading integrated energy and chemical company."