Education and entertainment company ACK Media has announced acquisition of India Book House as part of its strategy to develop 'end-to-end' content, distribution and experience delivery capabilities for family entertainment.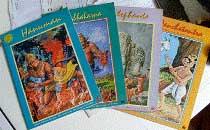 The new entity will be one of the largest integrated publishing and distribution firms in India, a release said.
ACK Media, which owns popular brands like Amar Chitra Katha and Tinkle, plans to grow the business by creating more childrens content in English and regional languages to leverage the IBH pipeline, acquiring new publishing partners, adding new products categories, deepening the network in 50+ cities, and entering the Direct-To-Consumer market.
Samir Patil, CEO and Founder of ACK Media, said This acquisition is essential for our overall strategy of expanding the childrens media category to all forms - print, video, games, toys, merchandize, and other products" Ashish Goel, Chief Operating and Financial Officer of ACK Media will be the Managing Director of the new entity.
The new entity would have a robust infrastructure of 10 offices in major metro cities across India, a distribution network that includes over 2,500 stores and over 22,000 vendors, thus allowing us to penetrate not just the top 12 cities, but the top 400 cities in India in a very meaningful manner, said Goel.
ACK Media is also looking to raise nearly Rs 1 billion (Rs 100 crore) in the next 18 months to expand its portfolio of products and promote itself in India and abroad. With an additional investment of Rs 90-100 crore, our objective is to take this figure, over the next three-four years, to the Rs 500 crore mark, said Patil.