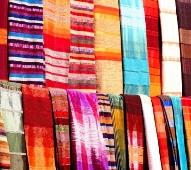 Handicraft goods, silk, woollen yarn, fabrics, jute and cotton yarn were among the items that saw the worst decline in exports when the global downturn struck, according to official data.

According to latest figures, exports of some jute items -- such as yarn -- dropped by over 48 per cent from April to January, 2009-10.
Export of handicrafts dipped by over 22 per cent, silk by 16.35 per cent, woollen yarn and fabrics by 17.4 per cent and cotton yarn and fabrics by 22.69 per cent as the world grappled with the recession.
However, the export of raw cotton (which has now been restricted), man-made fibres, silk waste and garments of man- made fibre helped contain the overall slippage.
Exports in the sector -- as a whole -- were down by about 2 per cent to $17.3 billion from April to January 2009-10, over the same period a year ago.
With the revival of demand in Western markets, industry and government officials expect the sector to grow up to $24 billion in 2010-11.
"Business enquiries are coming again and we see an increase in demand from the US in the coming months," Federation of Indian Export Organisations president A Sakthivel said.
Demand is slowly picking up in new markets like South America and Japan, he added.