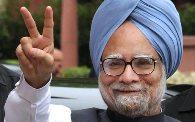 The Prime Minister's Council on Trade and Industry comprising top industrialists and bankers met on Wednesday and reviewed the economic situation, particularly in the wake of the European financial crisis.
Chaired by Prime Minister Manmohan Singh, the meeting was attended by Finance Minister Pranab Mukherjee, Commerce and Industry Minister Anand Sharma.
Industrialists Ratan Tata, Mukesh Ambani and Sunil Mittal, and banker Chanda Kochhar attended the meeting.
The council is believed to have discussed the possible impact of the European financial crisis on the Indian economy, which is projected to grow by 8.5 per cent in the current fiscal.
On Monday, the Prime Minister had emphasised the need for giving a boost to the manufacturing sector for achieving a gross domestic growth of 10 per cent in the medium term.
The Trade and Economic Relations Committee was constituted on 3 May 2005 to enhance India's economic relations with other countries in a coordinated manner.