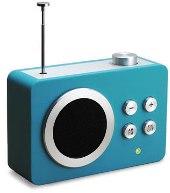 Over the last couple of weeks, there's been a lot of buzz at the Mumbai headquarters of the Anil Ambani-owned Reliance Media World.
All the 700-odd employees of RMWL will get new cards and stationary with a new signature logo which will have RMWL as the umbrella brand and the business divisions alongside -- BIG FM, BIG Live, BIG Street, BIG Digital.
"We want to highlight that Reliance Media World is no longer just about radio. Rather, it's an integrated platform which also offers media solutions in digital, out of home and below the line advertising," says Tarun Katial, CEO of Reliance Media World.
BIG FM is the largest division while BIG Live is the company's experiential marketing arm. BIG Street is in the business of acquiring and marketing of OOH assets and BIG Digital offers mobile and online solutions.
To sell the integration idea to employees and clients, however, Katyal restructured the sales teams -- now called BIG Connect -- and encouraged them to treat their clients as 'key accounts'.
He also launched the concept of 'Mission Integrated called Mi1' which speaks of "a one company, multiple ideas; one company, multiple platforms approach".
Key management personnel then travelled to cities and held training workshops for employees to make them understand the changes.
The company also adopted the direct marketing approach through road shows, seminars and symposiums.
Katial, meanwhile, believes in leveraging the Reliance ADA group companies' strength's 'where we can bring to the table, BIG Cinemas, Zapak Gaming, BIG ADDA, BIG Home videos and BIG ND Studios'.
He also believes in alliances. BIG Street has a marketing alliance with for 50 light emitting diode displays in Delhi, which are managed by International Techno Media.
It has also partnered with Qumbet -- a Hong Kong-based street furniture specialist for OOH requirements in Mumbai.
BIG Digital, on its part, has entered into a partnership with India's largest telecom VAS provider, OnMobile Global Ltd., to launch the radio experience on the mobile platform.
And BIG Live is associated with 'I Am She 2010' - the official preliminary to the Ms Universe 2010 Pageant.
"The potential for integrated offerings is immense. Between experiential marketing, OOH and digital, the opportunity is in excess of Rs 5,000 crore (Rs 50 billion)," says Katial. Going forward, he concludes: "Phase III radio licensing, expected to happen shortly, will result in boosting the fortunes of the radio industry."
But he has catching up to do. The Indian Readership Survey 2010 Q1 data on the radio industry reveal that Radio Mirchi is the leading FM radio station across India.
Big FM is a distant second. Katial counters: "We are the only players that have integrated offerings which means we will capture more marketshare in the coming months."