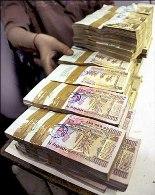 A day after large banks such as Punjab National Bank and IDBI Bank increased base rates, state-run lenders Indian Overseas Bank and Indian Bank followed.
Chennai-based Indian Overseas Bank (IOB) increased its base rate by 25 basis points to 8.5 per cent but decided to exempt home loans. Indian Bank increased its base rate by 50 bps to 8.5 per cent.
State Bank of Bikaner and Jaipur (SBBJ), one of the six associate banks of State Bank of India, decided to follow its parent bank's path of maintaining status quo on the base rate. "The base rate of the bank continues at 7.75 per cent till December 2010," SBBJ said in a statement.
IOB and Indian Bank have also raised their benchmark prime lending rates by 25 bps to 12.74 per cent.