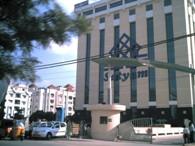 Larsen & Toubro (L&T), the technology, engineering, construction and manufacturing company, has scaled down its stake in Mahindra Satyam, the erstwhile Satyam Computer Services, to a little over two per cent.
The company sold 28 million shares of Mahindra Satyam in the open market for around Rs 295 crore (Rs 2.95 billion) last month.
According to the disclosures made by Mahindra Satyam to the stock exchange today, with this sale of shares, L&T's stake in it has reduced to 2.16 per cent from 4.58 per cent. These transactions took place between September 15 and September 28.
The average buying price of Satyam shares was Rs 80 per share. Taking into account the average acquisition price, L&T could have made a profit of around Rs 67 crore (Rs 670 million) from the latest tranche of share sale.
L&T started buying shares of Satyam in January 2009, as the share price plunged into the red after the company's chairman Ramalinga Raju confessed to an accounting fraud. The construction major acquired as much as 12 per cent in the company in the hope of attaining control.
However, as the company was auctioned, Tech Mahindra emerged as the winning bidder, and L&T's stake no more remained strategic. The company's management had maintained that they would sell this stake as and when they saw good returns.