Delhi Metro Rail Corporation has signed a memorandum of understanding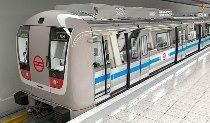 with Jaipur Development Authority for a four-lane elevated road-cum-metro track project.
DMRC has already floated tenders for the Rs 215-crore (Rs 2.2 billion) project, the first of its kind in the country. The track will run parallel to Ajmer Road in Jaipur. DMRC is executing the first phase of Jaipur Metro Rail Project.
On Saturday, the MoU was signed by P K Gupta, a senior official of DMRC, and Shuchi Sharma, director, JDA, in the presence of state Urban Development and Housing Minister Shanti Dhariwal and Principal Secretary for Urban Development G S Sandhu. The project aims to ease traffic congestion on the busy Ajmer Road.
"The project was sanctioned under the Jawaharlal Nehru National Urban Renewal Mission to the JDA, with Rs 170-crore (Rs 1.7 billion) allocation. But now, in view of the Metro project on the same route, the project have been combined in one and will be completed within two years," said Dhariwal.
The minister said DMRC had engaged the best consultants to design the double-storied elevated road and metro track project -- where on ground, normal traffic will flow; on the first level, four-lane elevated road is being constructed for smooth flow of traffic on the highway to Ajmer; and on second, metro track will be built.
Sandhu said Rs 170 crore (Rs 1.7 billion) would be provided by JDA as sanctioned earlier and the rest would come from the Jaipur Metro fund.
"The project will ease traffic flow from Ajmer to Jaipur and vice-versa. The length of elevated road towards Ajmer will be 2.95 kilometres (km) and 4.63 km from Ajmer side to Jaipur. Metro will run from Sodala to Civil lines on the second level and it will have a length of 1.6 km," he added.
Lalit Meghanani, DMRC project incharge, said work would start from next month. Meghanani said tenders for the same had already been floated and work was expected to be awarded within 15 days.
Meanwhile, the Rajasthan government is set to introduce new taxes and other revenue measures to raise money for the Jaipur Metro, part of which will be operational in 2013.
In the first phase, DMRC would construct the 9.25-km metro corridor between Mansarover and Chand Pole at a cost of Rs 1,250 crore (Rs 12.5 billion).