Mining major Vedanta Resources on Thursday said its investment in India would come down by up to $2 billion (nearly Rs 9,000 crore) in the next two years as expansion plans are put on hold after the group has been denied permission to mine bauxite in Orissa's Niyamgiri hills.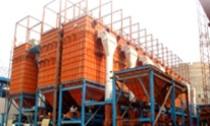 "Since final clearance was not granted for bauxite mining at Niyamgiri, we have reviewed our capital expenditure programme," NRI billionaire Anil Agarwal-led company said in a statement.
The group had plans to invest up to $8-10 billion in India over a period of time. Vedanta group CEO M S Mehta speaking at a conference call said the group has decided to put on hold its expansion plans in the aluminium sector which will have an impact of up to $2 billion on its capital expenditure programme.
 "(It) will have an impact of between $1.5 billion and $2 billion over the next two years. ...these numbers are very tentative as of now; these numbers will be developing as we go forward," Mehta said.
The statement added that "further work on the refinery expansion project has been put on hold, and the first metal tapping at the 1.25 mtpa Jharsuguda-II smelter and the 325 ktpa Korba smelter projects is also being temporarily deferred."
The Union Environment Ministry in August had rejected earlier clearances granted to a joint venture led by the Vedanta Group company Sterlite Industies for mining bauxite from Niyamgiri hills which is said to be home to endangered tribal species Dongria Kondh.
The ministry has also asked the group as to why action should not be taken on its subsidiary (Vedanta Aluminium) for going ahead with its alumina refinery's expansion programme without obtaining necessary approvals. Now, the group said it will run its 1 million tonnes refinery from mineral supplies from its subsidiary Balco and other sources. "...we are in discussions with the Orissa State Government for allocation of new bauxite deposits in accordance with our MoU with them for the supply of 150 mt bauxite," it added.
Meanwhile, the firm said it recorded growth in mineral output from its various verticals like Vedanta Aluminium, Sterlite Industries, Hindustan Zinc, Sesa Goa among others in the first six months of the current fiscal.
Vedanta's aluminium production grew by 23.3 per cent to 3.02 lakh tonnes in the reporting period. Its copper output grew by 16.7 per cent 14,000 tonnes in the first half of the fiscal.
Similarly, the group said its zinc production rose 3.2 per cent to 3.87 lakh tonnes. The company said its Iron ore production was stable at 3.2 million tonnes.