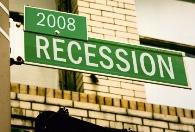 India and China, besides some developed countries, may face economic downturn in the coming months, according to an analysis by OECD -- a grouping of mostly advanced nations.
It also said the global economic growth is slowing down. The latest reading is in contrast to the bullish outlook for fast-growing economies such as India, which tackled the global financial meltdown better than many other countries.
The Organisation for Economic Cooperation and Development (OECD)'s latest Composite Leading Indicators (CLIs) released on Monday show that global economic expansion is slowing down. CLI provide early signals of turning points in business cycles fluctuations of economic activity around its long term potential level.
"The outlook given by the CLIs for Canada, France, Italy, the United Kingdom, Brazil, China and India points strongly to a downturn," OECD said in a statement. CLI for India stood at 100.4 in August, a tad lower than 100.6 recorded in July.
In the case of China, the August indicators slipped to 101.3 from 101.7 in the previous month. Interestingly, a few days ago, Indian Finance Minister Pranab Mukherjee had said that in the short term it is reasonable to expect the national economy to go back to the "robust growth path of around 9 per cent average".
India's economic growth rate was 7.4 per cent in 2009-10 and is projected to be over 8.5 per cent for the year ending March 31, 2011. From over 9 per cent average for three years till 2007-08, the growth slipped to 6.7 per cent in 2008-09 because of the global economic crisis that began in 2008.
India is not part of the Paris-based grouping. Apart from India and China, OECD also provides CLIs for three other major Asian economies -- Indonesia, Japan and South Korea.
Meanwhile, the indicators for the OECD region, comprising 33 economies including the US and Germany, marginally fell to 102.9 in August. In the previous month, the same was at 103. OECD, which accounts for over 60 per cent of the global economic output, said that August indicators "reinforce signals of slowing economic expansion already seen last month".
The CLI for the OECD area decreased by 0.1 point in August, making it the fourth straight month that the index has shown negligible or negative growth. However, the grouping pointed out that there are stronger signals of a peak emerging in the world's largest economy US.
"For Germany, Japan and Russia the CLI points to a continuation of the expansion phase," it added.