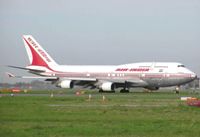 The lean period air traffic in India remained almost at the same level during July-September and January-March this year, with private carrier Jet Airways and its no-frill subsidiary together continuing to fly the maximum number of passengers.


Continuing its upward trend, domestic air traffic this year has risen by over 19 per cent between January and August compared with the same period last year.
The total domestic passengers carried by scheduled Indian airlines in the third quarter of the year was 119.83 lakh (1.19 million), compared with 118.53 lakh (1.18 million) between January and March, official air traffic figures showed on Tuesday.
The number of passengers who flew between April and June, or the peak holiday season in the second quarter, was 134.77 lakh (1.34 million).
In the July-September period, Jet Airways and JetLite together flew 32.19 lakh (3.21 million) passengers, while Kingfisher and Kingfisher Red carried 23.85 lakh (2.38 million) and Air India (Domestic) 21.69 lakh (2.16 million).
Among the purely no-frill airlines, IndiGo flew the highest number at 19.82 lakh, SpiceJet 15.34 lakh (1.53 million) and GoAir 682,000.
In accordance with the passengers carried during the third quarter, the market share of Jet-JetLite combine was 26.9 per cent, followed by Kingfisher with 19.9, Air India (Domestic) 18.1, IndiGo 16.5, SpiceJet 12.8 and GoAir 5.7.
In terms of the seat factor (or percentage of seats filled per flight) of these airlines during the lean month of September, Kingfisher topped the chart with 85.9 per cent, followed by IndiGo at 72.3 per cent.
The lowest seat factor was 66.7 per cent for Air India (Domestic).