India and Japan on Monday successfully concluded the negotiations for the Comprehensive Economic Partnership Agreement, described as momentous by Indian Foreign Secretary Nirupama Rao at a press briefing in Tokyo.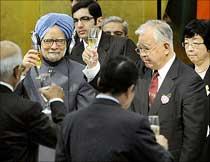 Earlier, Prime Minister Manmohan Singh and his Japanese counterpart Naoto Kan said in a joint statement that the India-Japan CEPA will be signed at the earliest at the ministerial level, on the completion of the necessary formalities by both sides.

The CEPA will likely usher in a new era of cooperation and broad-basing of economic relationship between the two Asian powers.

The move on CEPA is a positive development in the fields ranging from trade in goods and services, investment, free movement of people, intellectual property, competition, improvement of the business environment, et cetera.

The move also affirms the two nations' determination to continue working for the further expansion and strengthening of the economic partnership between them.

It is also expected to foster new business opportunities, enhance competitiveness of the private sectors of both countries, and encourage closer partnership between those private sectors, from SMEs to infrastructure-related enterprises.

This will bring about increased prosperity and stability for both the countries and contribute to the peace and prosperity of the Asian region.

The foreign secretary said that the expansion of economic ties between the two nations was a very positive development, and Prime Minister Manmohan Singh too had referred to it as a project being close to his heart.

He had said that as far as the realisation of the potential of the economic relationship between India and Japan is concerned, "the sky is the limit".

Nirupama Rao while speaking to the media said that "CEPA is the future" and will help realised the enormous potential indicated by the prime minister.

She said that the agreement will help increase Japanese investment into the country, which already has seen a spike in recent times.

There are 728 Japanese business operations in India, with the number of Japanese professionals working in India or securing visas constantly rising.

The joint statement said that the India-Japan CEPA will elevate the strategic and global partnership between India and Japan to a higher level for the mutual benefit of the people of both the nations.

It will help develop areas of potential mutual complementarity, strengthen the bilateral economic relationship further and promote economic development by increasing the cross-border flows of goods, persons, investment and services.

The agreement will also strengthen the foundation for the economic development of India and Japan through closer cooperation between the two countries in various fields.

The two prime ministers hoped that through the India-Japan CEPA's implementation, India and Japan will be able to make maximum use of respective competitive advantages to promote the development of both economies.
Image: Prime Minister Manmohan Singh (2nd L) toasts with the Japan Business Federation (Keidanren) Chairman Hiromasa Yonekura (2nd R) during a luncheon with Japanese business leaders in Tokyo. | Photographs: Reuters