The government banks on the support of the Bharatiya Janata Party  to push the Insurance and LIC Bills in the next Parliament session, but it seems to have adopted different tactics on the Goods and Services Tax (GST) Bill.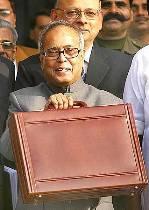 To put BJP under pressure, Finance Minister Pranab Mukherjee has sent letters to the Parliamentary wings of all parties, seeking "views" on GST.
For the first time, the finance ministry has sought the views of political parties on the contentious issue. Mukherjee's move comes after the BJP-ruled states led the chorus against GST, forcing the government to miss the rollout target of April 1, 2011.
The Left parties that rule three states are also likely to ask the government to drop the idea of giving veto power to the Union finance minister as envisaged in the original draft.