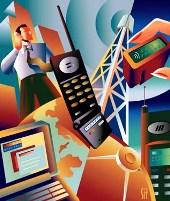 Telecom Commission, decision making arm of Telecom Ministry, will soon decide whether to allow new operators to surrender 2G spectrum and avail of refund of the money they paid in January 2008.
A senior official in the Telecom Ministry said the government is considering an exit option for the new telecom players who are struggling to roll out services.
The move comes in the wake of some of the new entrants including Swan Telecom approaching department of telecommunication for surrendering their licences and spectrum, which they had bagged two years ago, for a refund of entry fee the company had paid, at the rate of Rs 1,651 crore (Rs 16.51 billion) for pan-India operations.
As many as nine players including Swan, Uninor, Videocon-owned Datacom and Loop Telecom, had bagged spectrum in 2008 and several operators are yet to start their services.
The official said the matter would be taken up by the Telecom Commission.
The Commission may consider several possibilities including allowing new companies to merge with larger operators, shortening the three year lock-in period during which the promoter of a new company is barred from selling out.
The current M&A norms restrict new telcos, who had got pan-India licences and spectrum at Rs 1,651 crore (Rs 16.51 billion), from selling them out.
With 14 telecom players jostling in each circle, analysts feel that a shake-out is inevitable as the margins of telcos are under pressure due to a tariff war and falling average revenue per user.
Asked who were the new players that had approached department of telecommunication for surrendering spectrum, officials declined to give names but confirmed that at least three new players have sought refund in lieu of exiting the space.
Among the new players, Shyam-Sistema have already rolled out services in several circles, Uninor (a joint venture between Unitech and Telenor of Norway) have also started services in some of the circles.
Besides these two, S Tel has also almost covered its areas and RCom and Tatas have also launched GSM services in most of the circles.