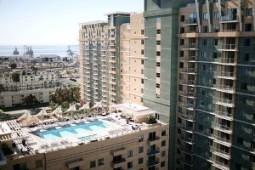 The home-loan battle between State Bank of India, and Housing Development Finance Corporation, the largest mortgage financier, shows no signs of ending.
Less than a week after its teaser home loan scheme expired, HDFC has re-launched it at slightly higher rates.
And, SBI is also likely to extend its own teaser rate scheme, due to expire on September 30, a top official said on Monday.
In HDFC's latest offer, customers who apply before September 30 and take part-disbursement before October 31 will be charged an interest of 8.5 per cent up to March 31, 2011, and 9.5 per cent for the period between April 1 and March 31, 2012.
Thereafter, the prevailing floating rate will apply.
The scheme is available to all customers irrespective of loan amount, said an HDFC statement.
Last week, HDFC had raised its retail prime lending rate by 50 basis points to 14.25 per cent for the first time in two years.
According to a senior HDFC official, 75 per cent of the mortgage financier's lending is done at floating rates.
On Monday, SBI managing director S K Bhattacharya said the bank might extend its teaser home loan scheme.
"Our home loan scheme has been immensely successful, and why should we not continue with it?" he told reporters on the sidelines of a banking event in Kolkata.
"It is a good scheme. We have overtaken all others in home loans. Till now, we have not taken any decision on extending the scheme. The final decision will be taken at the ALM (asset-liability management) meeting in September," he added.
SBI's scheme was originally supposed to end by April 30, but was extended till June and then again till September.
For the first year, home loans carry an eight per cent interest rate, which rises to nine per cent in the second and third years.
From the fourth year on, home loans up to Rs 50 lakh (Rs 5 million) will be charged 9.25 per cent, while higher loans will be charged 9.75 per cent.
While most banks have withdrawn fixed-cum-floating rate schemes, SBI and HDFC have persisted with the teaser rates.
LIC Housing Finance has a scheme which offers 8.9 per cent till March 31, 2012, and a floating rate thereafter.
LICHF director and chief executive R R Nair said the mortgage financier reviews its scheme at the end of every month.