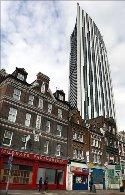 London's Conservative mayor Boris Johnson has opposed the David Cameron government's plans to place an annual limit on professional migrants from India and outside the European Union, taking the controversy to a new level.
Johnson, a former journalist who has announced he will contest the London mayoral election again in 2012, has informed Home secretary Theresa May that the temporary cap of 24,100 non-EU migrants in place between June 2009 and April 2011 is already causing companies 'significant recruitment problems'.
The coalition government's policy to limit the number of professionals from India and other non-EU countries has raised a welter of protest from British companies struggling to find employees with the right skills within Britain and Europe.
Indian professionals are much in demand in sectors such as information technology, finance and medicine. The deadline for a public consultation on the issue by the Home Office's key Migration Advisory Committee ended on Tuesday.
In a letter to May, Johnson wrote this week: "Early indications are that the imposition of an interim limit on non-EU economic migration is already causing businesses significant recruitment problems."
According to Johnson, putting in place an annual limit from April 2011 is "likely to have a significant negative and disproportionate impact on London" and "put the economic recovery at risk by creating skills gaps and placing London at a competitive disadvantage in the global competition for talent and inward investment".
He says that the "economic harm" of limiting the influx of workers from outside the EU "would be substantial given their vital contribution to UK economy, and disproportionately felt in London given their concentration in the capital".
Calling for "a major rethink of government policy", he says British companies are firmly on his side. Leading companies, he says, are "unanimous in their opposition and hostile to the proposal...they warn that the limit will damage small, medium and large businesses, prevent inward investment, talent and trade opportunities coming to London, and thereby materially damage London's competitiveness".
Divisions within the coalition government have already surfaced over this controversial policy. Business secretary Vince Cable had said during his recent visit to India: "It is no great secret that in my department and me personally, we want to see an open economy, and as liberal an immigration policy as it is possible to have."
© Copyright 2020 PTI. All rights reserved. Republication or redistribution of PTI content, including by framing or similar means, is expressly prohibited without the prior written consent.