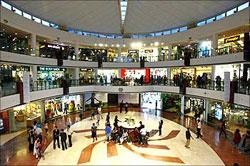 Beleaguered discount chain Vishal Retail on Monday said it would sell its retail trading business to Chennai-based Shriram Group, and the wholesale division to the private equity firm TPG, for a combined value of Rs 100 crore (Rs 1 billion).
The sale, however, does not include the firm's properties in Hubli, Kolkata, Dehradun and Jabalpur, Vishal Retail said in a statement to the stock exchanges.
The company said its board has decided to conduct a postal ballot to seek shareholders' approval for the deal.
Vishal Retail CMD Ram Chandra Agrawal and its company secretary Arun Gupta have been been authorised to conduct the ballot, and the results will be announced on October 25.
While TPG will buy the wholesale trading, institutional sales and franchise operations of Vishal, Shriram will get hold of the 'retail trading undertaking' of Vishal.
Further details of the deal could not be ascertained as the officials of both Vishal and TPG's Indian subsidiary declined to comment.
Meanwhile, Shriram Capital Chairman Arun Duggal told PTI that it was premature to talk about the details of the deal.
"We are yet to have several meetings to figure out Shriram Group's role as retail is not our core business. Our forte is financial services, so we will have to see how the deal has to be worked out," Duggal said.
He however confirmed that any deal with respect to Vishal will not be made by Shriram Capital, but declined to share more details. "It will take a few weeks to know what is exactly going to happen," he added.
Shriram is a diversified group, with focus on areas like financial services, property and engineering services.
Vishal Retail, one of India's largest discount chains got into financial trouble about a year ago, with a pile up of Rs 730 crore (Rs 7.30 billion) in debts. Last year, it underwent a corporate debt restructuring (CDR) programme.
State Bank of India, HSBC, HDFC, ING Vysya Bank, Bank of India and UCO Bank were the lenders to Vishal who had agreed to participate in the CDR.
In June this year, the firm announced that it has signed a memorandum of understanding with private equity firm TPG.
The company operates retail outlets across India under brands like Vishal, Vishal Retail, Vishal Megamart and Vishal Fashion Mart.
Recently, Kishore Biyani-led Future Group was also reported to be in buyout talks with Vishal.
For the quarter ended June 30, Vishal posted a net loss of Rs 19.47 crore (Rs 194.7 million) and net sales of Rs 334.63 crore (Rs 3.346 billion).
The company's scrip on Monday closed at Rs 54.25 per share, registering a hike of 6.69 per cent at the Bombay Stock Exchange.