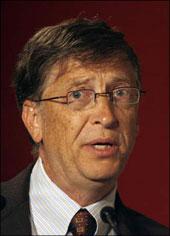 Bill Gates, one of the world's richest men, has said that he is not interested in using his billions to launch a dynasty and would not leave his fortune to his children.


The 54-year-old father of three, worth an estimated $34 billion, has unleashed his planet-sized brain and the extraordinary dynamism that made Microsoft the all-conquering global software giant to defeat global poverty.


Gates and his wife Melinda, 44, have three children -- Jennifer, 14, Rory, 11, and eight-year-old Phoebe.


"I knew I didn't think it was a good idea to give the money to my kids. That wouldn't be good either for my kids or society. So the question was, 'Can I find something that had incredible impact?' I knew I wanted to do that," Gates was quoted by The Sun as saying.
So far, Gates and his wife, through their foundation, have given away $18 billion which has helped deliver vaccines to more than 250 million children in poor countries, preventing an estimated five million deaths.
"In the 1960s over 20million children died a year. Now that number's down to somewhere between eight and nine million -- clearly that's incredible progress. I like to get to Africa and India at least once a year. I really like having a hands-on experience. I'm not well known in these countries."
However, as for the inheritance of his children, Gates said: "I will give the kids some money but not a meaningful percentage. Setting the number so that they need to work but they feel reasonably taken care of is hard to figure out."
© Copyright 2022 PTI. All rights reserved. Republication or redistribution of PTI content, including by framing or similar means, is expressly prohibited without the prior written consent.