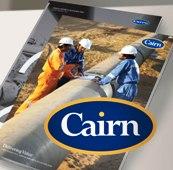 Cairn Energy Plc, the London- listed firm which is selling its Indian operations to Vedanta Resources Plc, said on Monday it has made its first oil discovery off the coast of Greenland.
Edinburgh-based Cairn said its Alpha-1S1 well in the sea between Greenland and Canada found oil over a 400 meter section and encountered gas reserves, the company said.
"The presence of both oil and gas confirms an active, working petroleum system in the basin and is extremely encouraging at this very early stage of our exploration campaign for the Sigguk block and the entire area," Cairn Energy chief executive Bill Gammell said.
Cairn said its other well, T8-1, which it had previously stated had found small quantities of gas, was plugged and abandoned after it failed to result in a commercial discovery.
"The T8, Alpha and T4 (well Cairn is currently drilling) are the first wells in Cairn's exploration programme in Greenland and are also the first wells ever drilled in the Baffin Bay Basin which is similar in size to the North Sea," he said.
The Alpha-1S1 well encountered two different types of oil over a 400 meter section, said Cairn, which is spending $400 million this year on drilling four wells off Greenland.
US Geological Survey estimates that Greenland waters may hold 50 billion barrels of crude and gas reserves and has attracted energy giants Exxon Mobil Corp and Chevron Crop to Island governed by Denmark.
Billionaire Anil Agarwal-run Vedanta Group is paying up to $9.6 billion for up to 60 per cent stake in Cairn India.
© Copyright 2020 PTI. All rights reserved. Republication or redistribution of PTI content, including by framing or similar means, is expressly prohibited without the prior written consent.